Reliable product choice
The number of different characterized gases is large and that of gas mixtures endless. The medium determines housing and seal material characteristics and hence the service life of fixtures, fittings and valves. Auxiliary systems such as e.g. flushing and warming equipment can decisively influence your use. Which gas supply system or pressure reducer at what price is right for you is something that can often only be decided by experts.
GasTech has the know-how and is happy to help:
Choose the right regulator/s, fixtures, fittings and valves for your process
Choose filling equipment used in industrial production of goods containing gas
Equip laboratories
Equip production facilities
Choose analysis technology gas supply equipment, e.g. for gas chromatography
Choose the right accessories
GasTech relies on close cooperation with clients and helps from the beginning to save valuable development time and cost, especially in developing and equipping new plant. We support the use of technical processes in integrated development and supply tailored products where needed.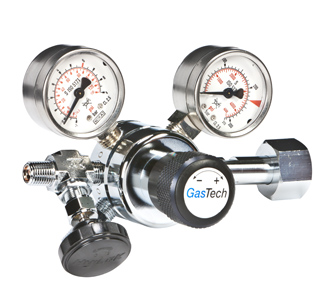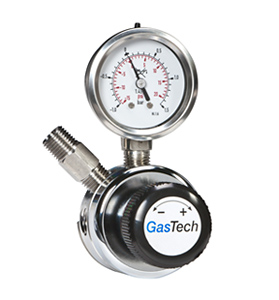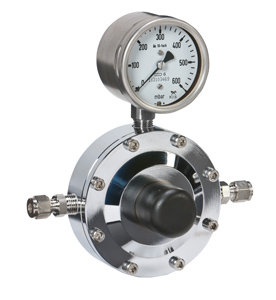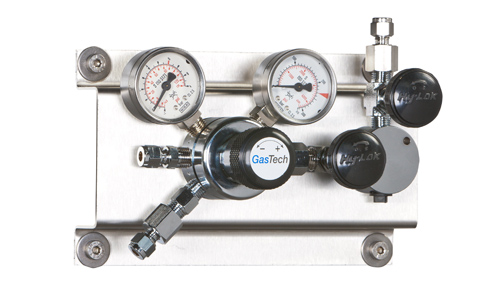 Special designs for specific problems
The GasTech range of products includes pressure reducers of all types for use with technical, corrosive, lab, pure gases and gas mixtures as well as medical oxygen for temperatures ranging from -40°C to +70°C made of stainless steel, brass, aluminium or monel in single- or twin-stage designs.
If you can't find the right product with our search engine or have special requirements of connections, pressures, materials, sizes or e.g. weights of valves just let us know. We'll be happy to advise and find the right answer with the aid of our designers.